Dog Training
---
Dogs Understood is a Dog and Puppy training company based in Bedford, Bedfordshire, mainly specialising in one to one behavioural training consultations, but also offering bespoke Puppy Training. Dogs Understood covers all of the Bedfordshire area and training sessions are designed to be very flexible and can work around you.
Using and recommending only kind, reward based training methods, you will be advised and guided, together with your dog, through the problems, ensuring that the experience for you both will be a pleasurable one.
Dogs Understood is here to offer the help you need! Just fill out the contact form and I'll be in touch.
Cause damage in the home?
Bark continually?
Chase its tail?
Pull on the lead?
Suffer from anxiety or nervousness?
Show signs of aggression or other unwanted behaviours?
Struggle with recall?
Soil in the house?
Suffer with eating of feeding issues?
OFFERING THE HELP YOU NEED
Telephone/Video consultations
One to One home visits and consultations
One to One training sessions
Bespoke Puppy Training / Socialisation Packages
My passion for dogs became apparent at a very young age. Being privileged enough to be brought up with dogs, my interest and passion resulted in my Nan buying me 'my own' puppy in 1985, when I was 10 years of age. From there my love and interest of every aspect of owning a dog grew. My interest in dog training began and my puppy and I started the long and enjoyable journey I have been on ever since, accompanied by my loyal and devoted dogs along the way.
Over the years I have continued with the training and studied various aspects of dog training, behaviour and psychology, together with numerous nutritional courses.
Having qualified as a Canine Behaviourist with the Canine Behaviour Centre, and as a Pet Nutritional Advisor, in 2003 I decided to form Dogs Understood on a part time basis. In 2006, with an ever increasing demand on my time, I made the decision to work full time with Dogs Understood. I am an Associate Member of the Canine Behaviour Centre and also a Member of the Kennel Club Accreditation Scheme for Instructors. I am also a volunteer with Pets as Therapy and am an authorised Assessor.
I have also been fortunate enough to have spent several years working alongside Lorraine at Happy Dog as an Instructor and I continue to work alongside Scott Veterinary Clinic, offering behavioural consultations, dog training, puppy parties and puppy training.
I have been incredibly fortunate to have the support of my family, in particular my husband Keith, who helps with the logistics of our ever increasing business and who takes care of the 'technical' side!
Our dogs have always been an integral part of our lives and work. Our team consists of 3 Belgian Shepherds (Tervuerens) and 2 Shetland Sheepdogs. They assist with training demonstrations, educational visits, training and working with other dogs and also conducting Pets As Therapy visits.
All of my dogs over the years have had a wonderful impact on my life and I must make mention of a very special chap 'Dino', who sadly passed away in August 2013. He most certainly was 'a dog in a million' and his influence and presence was my driving force to develop my 'hobby job' into my full time work/life. Dino had a special place in the hearts of everyone who knew him. I thank you, Dino.
The main function of Dogs Understood is to provide a professional training and behaviour service.
In addition, with considerable knowledge and qualifications in Canine Nutrition, Sally offers qualified professional advice on what is the best food or product for your dog.
NEVER HAD A DOG
BEFORE? …
Being a passionate dog lover as well as working with them professionally, I am a believer in people getting the right advice from the start, before the dog is acquired. So much of my work is dealing with the consequences of things going wrong and then putting the situation right – I would much rather help people and their dogs to get it right in the first place and therefore I am happy to give advice before the problems occur.
Certain things you should consider before getting a dog are:
How big is your home?
How long are you going to leave the dog alone?
How much time do you have to dedicate to a dog?
Have you taken into consideration the financial aspect of owning a dog (not just the feeding costs, but vets bills, insurance, grooming, kennelling etc)?
Are there children in the family now, or planned?
How much do you know about the dog you are considering, are you familiar with the breed type?
Do you know the dog's background? Many prospective owners like to get a rescue dog.
Are you thinking of getting a puppy? If so, make sure you do your homework, choosing the right breed for your circumstances and finding a reputable and responsible breeder. Unfortunately modern technology makes it easy for unscrupulous puppy farmers to pose as 'breeders'. It's also easy for criminals to sell stolen puppies and dogs – BE CAREFUL.
Dogs Understood is here to help you every step of the way, so please feel free to contact us at any point for guidance/advice.
It is a fact that a well trained, socialised dog is a much happier and content dog. A dog displaying undesirable behaviours is likely to be an unhappy dog.
HAVE YOU JUST ACQUIRED
A PUPPY? …
Obviously you cannot take your puppy to Puppy School or the park until they have had their vaccinations, but don't wait until then before you start training, you can start straightaway.
Not sure how? There is a lot for you to do whilst waiting for the 'all clear' to be able to take you puppy out. There is:
Training in the home (such as toilet training, crate training and basic manners)
Traffic training
Socialisation
It is very important to begin at an early age.
All too often I meet people who have kept their puppies indoors since 8 weeks of age, until they are fully vaccinated and able to venture out on the ground (by which time they are often 12 – 14 weeks old). One of the most important stages of development for your puppy mentally is between 8 – 12 weeks of age. This time can have a crucial effect on the rest of your puppy's life. Frequently owners are unaware that the training process can start before attending structured training sessions. If you wait until after vaccinations you will miss out on a huge amount of time when your puppy can be most influenced. Seek help and get training straightaway.
NEED MY HELP?
HAVE QUESTIONS?
LEAVE ME A
MESSAGE.
---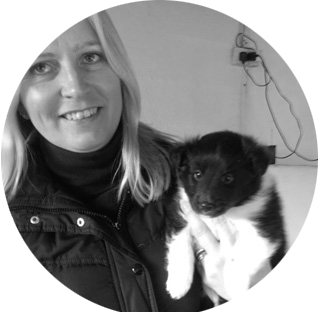 Sally Hubbard
---
Qualified as a Canine Behaviourist and Pet Nutritionist in 2003
---
07789 913834
sally@dogsunderstood.com